That Black (UA)

The Tafijczuk Family (UA)

Troitsa (BY)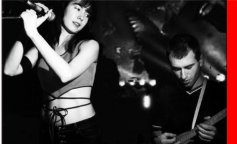 That Black

Everything began in 1993 with Donetsk' tech & musician Vlad Kramer having created a very strange device. That was a little black box, which could store in its digital memory several seconds of sound, loop it and then play it, constantly adding newly incoming sounds. In 1998 Vlad heard the real techno and jungle for the first time, and that was when his eyes got open (better late than never). He decided to give his band That Black a new birth and, jointly with the composer and guitarist Ivan Shapovalov, prepared a live set, which he played in Donetsk, and later on, in Moscow clubs and concerts. It was in Moscow that he got acquainted with Boris Nazarov, the art-director of the Moscow DISCOCSID label, and soon they make a deal about releasing an album.

Since spring 1999 Vlad has worked alone. That Black's music is hardly to be regarded in boundaries of some certain style. The project is rooted in blues - rock, avant-garde, industrial and even rap. A couple of tracks, INESS and HOROSHO !!! from their first album, are rather a big beat, then you hear some drum'n'bass pieces and ethno. MOOZ can be called a jazzy-house with an electrofunk extract in the end.

That Black combines various themes and motifs: heat of a desert, hot Africa, warm autumn day, ocean, storm.

Their most mature album is "OCEAN", although it was created with no special arrangement, but recorded spontaneously, from the heart. Vlad even considered that names of tracks in the album were unnecessary. This music is best listened to at work, during rest or meditations.



www.thatblack.narod.ru



The Tafijczuk Family

The Tafijczuk Family come from a Hutsul village Bukowec situated between Kosowo and Werchowyna in the Ukrainian Carpathians. The family have passed local musical traditions from one generation to another. The group consists of: father Mychajło Tafijczuk (born in 1939), his three sons - Jurij, Dmytro and Mykoła, and his daughter Hanna. Music performed by them is the classic of the Hutsul folklore and their playing is a rare phenomenon of incredible, natural virtuosity.

Mychajło Tafijczuk is one of the few outstanding experts on the art of building Hitsul instruments. The family's house is a place of pilgrimages of ethnographers from all over the world.

As a local and a family group, the Tafijczuks above all value a peaceful life according to centuries-long tradition, and popularity at home. They are often invited to local weddings, they perform less frequently beyond the Hutsul region - although they have played at renowned festivals in Ukraine and abroad.

The phonographic debut of the Tafijczuk Family was a sampler issued in France in 1993 entitled Musiques Traditionnelles Ukraine with recordings of unschooled musicians performing their native folklore. In Poland two albums of the group were released: "Music of Ukrainian Carpathins" Part 1 and Part 2. The first CD contains music that accompanies wedding customs - kolomyikas, ritual games, and archaic, lively dances played by musicians on fiddle, monteliev (a kind of flute), dulcimer and drum. The other CD contains ritual instrumental music of the Hutsul region. These are improvisations of traditional melodies on fiddle, sopilka, flojara, telenka etc. The tunes present the contemplative, modest in its form, side of the Hutsul folklore.



www.koka.serpent.pl (the Polish editor of the group's CDs)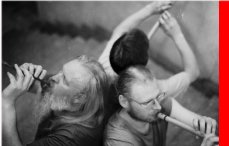 Troitsa

appeared in 1996 in Belarus, a small Eastern European country situated between Poland and Russia and also sharing borders with Ukraine and Lithuania. The founder of the group and its creative "guiding spirit" was Ivan Ivanovich Kirtchuk, a senior lecturer of the university in Minsk, the Belorussian capital. The name of the band, "Troitsa", which in translation means the numeral three, or the religious term "Trinity", was meant to underline the connection with national traditions. The idea to form such a group came to Ivan's mind in 1986, when he was collecting ethnographic material in Belorussian villages. His main motive for taking this step was the desire to popularize national songs, to connect them with musical traditions of the world. In fact, Belorussian music is quite universal, as it was shaped by various cultural influences mixing up in the country's history. The group is known mainly outside their native land.

In 1997 the band became popular in Russia, and in 1998 they made a big tour across the Netherlands, Slovenia, Croatia, Germany and Portugal. The uniqueness of their compositions, the variety of instruments they play, and also their professionalism - Ivan's strong voice and the technical abilities of other musicians - gave them great success with the audience, especially in Holland. "Troitsa" from the beginning used not only national instruments, but also those from other countries of the world, all the same retaining old Belorussian as the language of their songs. Critics described their style as "folk-fusion with the influence of world-music". In 1998 the group was noticed by a Dutch recording company PAN RECORDS, which offered them a contract for the release of their debut album "Troitsa". After this release and some concerts in Belarus and Holland the group broke up for some time. Only the leader and founder Ivan Kirtchuk continued to do music. In 1999 he went to post-war Bosnia, where he presented a program for children and gave performances with a Belorussian theatre "Batleika". A live album of "Troitsa", with concert recordings from the Dutch festival "Oerol", came out in the same year.

In 2000 Ivan released a solo record, "Heritage Of The Lost Villages", which combined minimal use of voice with the sound of musical instruments. In the autumn of the same year a new line-up, called "Ethno Trio Troitsa", gave their first concert in Minsk. New members of the band were Jury Dmitriev, a guitarist and a pupil of Ivan Kirtchuk, and drummer Jury Pavlovskij, ex-musician of "Kniaz Myshkin". "Zhuravy", the first release of the new formation, appeared in Holland in 2001. The group, while preparing a new album, continued playing on tour. The year 2002 was remarkable for the band: "Ethno Trio Troitsa" visited "Rain Forest", the biggest ethnic festival in Malaysia, and, in spite of the folk orientation of the group, participated in recording the Belorussian Depeche Mode tribute album.

In 2003 the group played in Belarus, and also at festivals in Poland, Hungary, Lithuania, Latvia, Bosnia and Estonia. In 2004 they continued giving concerts in their homeland, as well as behind its borders (Russia, Estonia), and, in summer, released their next record, "Sem". The album was entirely written and recorded in Belarus, as the group had the opportunity to work in one of the best studios in Minsk. The end of 2004 saw another release: a soundtrack to a children's film "Small fugitives", in which Ivan Ivanovich even played a small part.

Contact:
Troitsa
220020, Belarus, Minsk,
ul. L.Ukrainki., 4-1-215
E-mail: troitsa@troitsa.net



http://troitsa.net/

MP3

MP3