JORGI QUARTET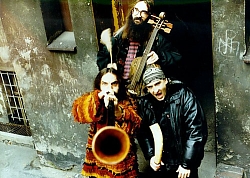 Kwartet Jorgi (Jorgi Quartet) is a legend of Polish folk stage, and brothers Maciej (wind instruments) and Waldemar Rychły (guitar) are its core. The group has existed since 1982. At that time nobody in Poland heard about folk music yet. The band members describe their work as "music of a green wave" - combination of ethnic tunes with jazz, classical music and acoustic rock. Their music is sometimes rhythmic, cheerful, dynamic, even wild, and sometimes it is nostalgic, lyrical, inspired by voices of nature. It reaches deep to the Slavic roots, combining it with virtuosity of performance and a great deal of improvisation. Influence of traditional music from different corners of the world, such as the Carpathians, Ireland, Africa can also be found here. Their music is the result of many years of research (e.g. reconstruction of instruments from archeological excavations in Poland) and trips e.g. to Albania, countries of the former Yugoslavia, to Romania and Ukraine. One of their records was made in Biskupin - a reconstructed settlement which dates back to 747-722 BC. The fact that the group has on their albums also compositions of Chopin, Szymanowski and Lutosławski is a proof of their openness and musical courage.
Kwartet Jorgi performed, among others, with a famous Breton musician, David Hopkins. Maciej Rychły and other members of the band cooperated also with many outstanding theatre groups. Maciej Rychły has been connected with Gardzienice Centre of Theatre Practices since 1991. He created the music for "Carmina Burana" and "Metamorfozy". He conducted research on the ancient music of Greece and the result of his work is an album "Metamorfozy - Music of Ancient Greece". He also ran classes in the Academy of Theatre Practices in Gardzienice. The leader of the group is also the author of many scientific writings published e.g. in quarterlies "Music" ("Muzyka"), "Contexts. Polish Folk Art" ("Konteksty. Polska Sztuka Ludowa"), "Quarterly of Material Culture History."("Kwartalnik Historii Kultury Materialnej"). In his great collection of wind instruments there are, apart from ordinary sycamore pipes, also sierszeńki - (a type of bagpipes), kukawka, multanki, ligawa, handmade pipes and flutes from brass pipes wrapped around with a birch bark, dwojnica, horns, and a lithopone - which he made of flint together with Wojciech Migal from Archeological Museum in Warsaw). The group has played hundreds of individual concerts and took part in festivals in almost all European countries and also in Canada and Venezuela; e.g. at the Festival of European Broadcasting Union (EBU), "Sidmouth Folk Festival" in Sidmouth (Great Britain) - 1992, "Festival of Flutes" in Derry (Ireland) - 1996. They have also made radio, film and television recordings, e.g. "O myśliwym i leśnym duchu" ("About a hunter and a forest ghost") directed by M. Pisarek (1993), "Szepty wiatru" ("Whispers of the wind") directed by F. De Pena (1993).
In recent years Maciej and Waldemar Rychły are the only permanent members of the group. In different constellations, a violinist, a trumpeter, a saxophonist and a drummer perform with them.
Discography:

"Life"- LP 1985 Pronit,
"Kwartet Jorgi"- LP 1986 Pronit,
"Kwartet Jorgi vol.1"( so-called Biskupin record) LP.1988 Polskie Nagrania
"Kwartet Jorgi"- CD 1991 JAM
"To i Tao"- CD 1991 JAM
"Kwartet Jorgi vol.1 and 2 "(so-called Biskupin record) - CD 1992 Polskie Nagrania
"Gęźbowa Knieja"(~"Forest of accompaniment") - MC 1994 Kamahuk
"Live"- MCx2 1994 Quartet [ all the material released on the albums "Live" (1985) and "Kwartet Jorgi" (1986) ]
"Jorgi - Chopin" CD-1995 Polish Radio
"Muzyka na trąbkę, gitarę i flet" (~" Music on trumpet, guitar, and flute") - CD 2000 Folk Magazine
Gardzienice "Metamorfozy - Music of Ancient Greece" - CD 2000 Altmaster
"Muzyka na trąbkę, gitarę i flet" (~" Music on trumpet, guitar, and flute") - CD 2002 Orange World


MP3