Oczeretianyj Kit (UA)

Orkiestra Janki Kozyr (UA)

Osimira (BY)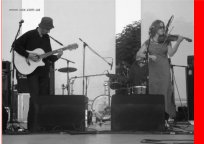 Oczeretianyj Kit

The group was founded in 1995. It takes its name from an animal which lives in bulrush and rushes and there finds everything necessary to survive.

Members of the band like travelling, but above all the want to live in Winnycia, where they can peacefully carry out creative experiments.

OCZERETIANYJ KIT was a guest of the festival "Czerwona Ruta" ("The Red Rute") (in 1995, 97, 99, 2001), "Taras Bulba" (Dubno 2002), "Mazepa-fest" (Połtawa 2004), "Szeszory" (2004, 2005).

Albums:
"Bursa" 1998,
"Mania" 1999,
"Kołomyjki" 2002.



MP3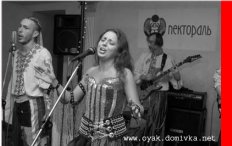 Orkiestra Janki Kozyr

It is not an ordinary band, it is an effective, mystically mysterious spectacle, good music, expressive singing and modern approach to folklore. Janka Kozyr, vocalist, sings in three languages: Ukrainian, English and German and spreads across Europe the motto of the band: "God! Love!! Ukraine!!!"

Performances of the band are enriched with firework shows, lights and lasers, that is why the group prefers playing at stadiums and in big concert halls.

The soloist of the group, Janka Kozyr, won in 2001 the main prize in pop at the "Pearls of the Season" festival. The band itself was the winner of "Pearls of the Season" in the category "rock".

Later the group appeared at many festivals: "Nibrok" - Tarnopol 2001, "M-Misja" ("M-Mission") - Kiev 2002, art festival in Lublin, Kętrzyn 2004 - on the occasion of Poland's joining the European Union, Grand Prix at the "Taras Bulba" festival - Dubno 2004, the winner of the "Great rock'n'roll battle" festival - Kiev 2004, festivals in Poland, the USA, Italy and Belarus.

In December 2001 the band performed a one and half-an-hour concert on TV, on the basis of which a cyclic programme was created (in 2002). Since then Orchestra can be often heard on the radio or seen on TV.



www.oyak.domivka.net

MP3

MP3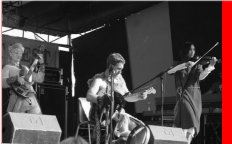 Osimira

- is a project of 7 musicians. The idea of the project is to restore authentic native music, which is not only to be played but to be lived in. This music joins songs of folk festivities, fairs and dances with melodies of the nature where each place sounds in a different way.

OSIMIRA is this core of human nature and culture on which epochs, times and events are strung. This are the eternal pillars of past and present our civilisations which are preserved in every cell of man's body, in his subconsciousness. This is the music of man and nature which sounds in everyone...

Participians:
ANDRUS POLOVCHENIA - flutes, duda, percussion, alto domra, Jew's harp, vocal
KASTUS KANCAVY - duda, sopilka, surma, pipe, mandolin, Jew's harp
HAL'YASH DOLZHENKOV - bass - guitar
ALEKSEY POLOVCHENIA - percussion, drums
KATERINA DONDA - violin
ANDREY BINDASOV - drums, percussion, alto domra, vocal
LARYSA PRHEABRAZHENSKYA - violin

History:
Project OSIMIRA was founded in March 2002. The first concert took place on 10 th April 2002.
4-6.07.02 -International Festival "ETHNOSFERA" in Skierniewice (Poland)
First place in the competition and the prize of the audience.
28.07.02 - 10th Festival "FOLKFEST" in Ostrów Wielkopolski (Poland)
8.11.02 -First solo concert in a concert hall for 1000 people in Mogilev (Belarus)
11-17.07.03- InternationalFfestival "SLAVIANSKY BAZAR 2003" Vitebsk (Belarus)
22-24.08.03 - European neofolk darkwave festival "MENUO JUODARAGIS" Kernave, (Lithuania)
5-8.11.03 "FESTIWAL WYSZEHRADZKI" Wrocław (Poland)
May 2004 - the first album "Prosca" is released
17.06.04 - special guests of the "ŚWIĘTO WODY" festival. Koszalin (Poland)
11.07.04 - special guests of the "5th LETNIA AKADEMIA FILMOWA" (a film festival) Zwierzyniec (Poland)
23.08.04 - Solo concert in Sanok (Poland)
24.08.04 - International festival "MIODOBRANIE" Dzierzoniow (Poland)
17-21.07.05 - International festival "SLAVIANSKY BAZAR 2005" Vitebsk (Belarus)
27-31.07.05 - International festival "VILJANDI PARIMUSMUUSIKA FESTIVAL" Viljandi (Estonia)

OSIMIRA music is based on Baltic (Belorussian) and Indo-European traditions.

Contact:
Andrus Palauchenia
Tel. +375 294 200 568
E-mail:osimira@mail.ru

Management (Poland):
Sławomir Król "Ethnosfera"
Tel. / fax : + 48/22/ 615 6275,
Tel. kom: 693 448834,
E-mail: folktime@kki.pl

Management (Belarus, Russia):
Oleg Tikhonov
Tel. +375 212 272 601
E-mail: dairado@mail.ru

Management (Scandinavia):
Ruslan Trochynskyi
Tel. +372 566 80 575
E-mail: trochynskyy@yandex.ru
Terje Trochynskyi
Tel. +372 250 88 061
E-mail: terje@folk.ee



http://osimira.nm.ru

MP3